Radius Office Interiors is one of Ireland's leading office fit-out and furniture supplier companies. We're based in Dublin, but we work with clients across Ireland. With over 30 years of experience, we've established an excellent reputation among both clients and peers, thanks to our comprehensive office design service and our commitment to providing high-quality, stylish office furniture at competitive prices.
Our expertise and outstanding service have made us Ireland's go-to business for workspace refits. Our friendly, approachable people are ready to help you through the process with our complete office planning service. This starts with a concept and moves through design, furniture supply and fit-out. We've worked with hundreds of clients, from small businesses to big names, in both the public and private sectors. Many of our customers have been with us for years, returning time and again whenever they need us. We're proud of our ability to develop and maintain lasting relationships and provide first-class service, year after year.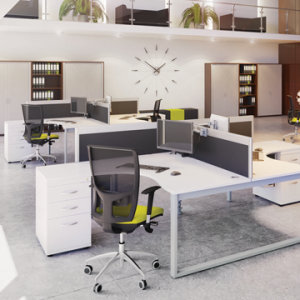 We create stylish, functional workspaces that meet business needs and fit budgets of all sizes. Our space planning and office layout service focus on creating designs that maximise space in your office while making it a comfortable, attractive place to be. We always use high-quality furniture and modern equipment. Our workspaces are places where people feel content and ready to work, meaning productivity gets a boost.

We can build you a space that:
-Meets your needs.
-Reflects your brand image.
-Fits your budget.
We offer a complete turnkey project management service, keeping the stress out of your refit. Want to know more about how we work and our commitment to excellence? Just take a look at our testimonials, gathered over years of work with hundreds of businesses.
We have offices in the heart of Dublin, and a showroom and warehouse just south of the city. Wherever you are in the country, reaching and meeting us is easy.
Any questions? Our friendly team of experts is here and ready to help you achieve your perfect work environment. Call us today on 01 96 96 333 or drop us an email at info@radiusoffice.ie.
And check out our blog to find out about office trends, the latest in furniture, and tips to help you keep your office happy and healthy.